Once you've started to enjoy the beautiful scenery of the desert, driving along roads full of valleys, cacti and mountains, crossing dry riverbeds, with the shiny sunlight, turquoise skies and dust and wind, you start to feel a growing urge to finally arrive at the impressive goal of this journey: Cabo Pulmo, located 60 miles NE of Los Cabos.
Cabo Pulmo Marine Park's 7,111 hectares of land and water around Cabo Pulmo is a protected natural area under the category of National Marine Park, since June 15, 1995, and since June 7th, 2000 as a National Park and is the site of the only surviving coral reef that exists in the Gulf of California.
It is a year-round paradise for both divers and snorkelers, with excellent visibility and temperate water this ensures that divers will be able to catch sight of multicoloured fish, deep-sea species and mammals that inhabit the Sea of Cortez including whale sharks, hammerhead sharks, dolphins, manta rays, tortoises, humpback whales and all of the species of fish so avidly sought by sport fishermen.
The National Marine Park at Cabo Pulmo, as mentioned, is unique because it is a living coral reef that has no equal on the West coast of North America. Located in Baja California Sur, in the Sea of Cortez, it offers 8 kilometers of beach (5 miles) that extends from Punta Cabo Pulmo (N) to Punta Los Frailes (S).

View Cabo Pulmo National Marine Park in a larger map
Marine reefs are considered among the oldest ecosystems on Earth, they are very important from the ecological standpoint, as reefs are vital for the health of the oceans and are considered the marine equivalent of tropical forests.
Tropical waters are naturally low in suspended nutrients, this is caused by the warm waters that prevent essential life-sustaining nutrients from emerging from the depths, and this is why tropical waters are sometimes called "marine deserts".
Coral reefs with the photosynthesis by the algae that are contained in the corals are a vital nutrient input for the tropical and subtropical sea's food chain, as well as assisting in the recycling of nutrients. The reefs provide protection and home to 25% of the fish in the ocean and up to 2 million marine species.
Cabo Pulmo is a spectacular reef, one of the oldest on America's Pacific coast, with an age estimated in twenty thousand years. The large number of marine species that can be admired here is impressive, even some of them are in danger of extinction, such as various species of sea turtles.
There are 17 diving sites including the deep reef, the shoal and an underwater canyon.  Novices and expert divers can enjoy a marvelous underwater experience in waters whose visibility ranges from 60 to 100 feet, with temperatures from 65° to 80°F.
Here at the Cabo Pulmo National Park, you can swim, during some seasons, alongside whale sharks (Rhincodon typus), which despite being a shark is not carnivorous, as well as humpback whales (Megaptera novaeangliae). But the most amazing and unusual species, that attracts many visitors to this location, are the manta rays (Mobulta thurstoni) that can be seen flying within and even jumping out of waters.
For these and other reasons, this park is now one of the best places worldwide for those who enjoy diving, snorkeling or kayaking. In Cabo Pulmo water has greater depth and is richer in nutrients, which affects visibility a bit, but there is no doubt that you will see large school of fish which you'll be hard-pressed to find elsewhere in the world.
Do take into account that you really don't need a lot of touristic infrastructure if you decide to visit this national park, it's more comforting to enjoy these natural beauties while fully respecting the environment that sustains them.
To reach the park we recommended that you rent a car in Los Cabos International Airport, from where the trip to the park is about two and a half hours. You start off on the Transpeninsular Highway # 1 which goes north of Santiago, when you are reaching Puente La Cueva, just before the bridge there is a detour to the right towards the town of La Ribera, once you reach the entrance of the town, take a right on the first street and you need to go straight until it becomes a dirt road, and about 10 miles further you'll arrive in Cabo Pulmo.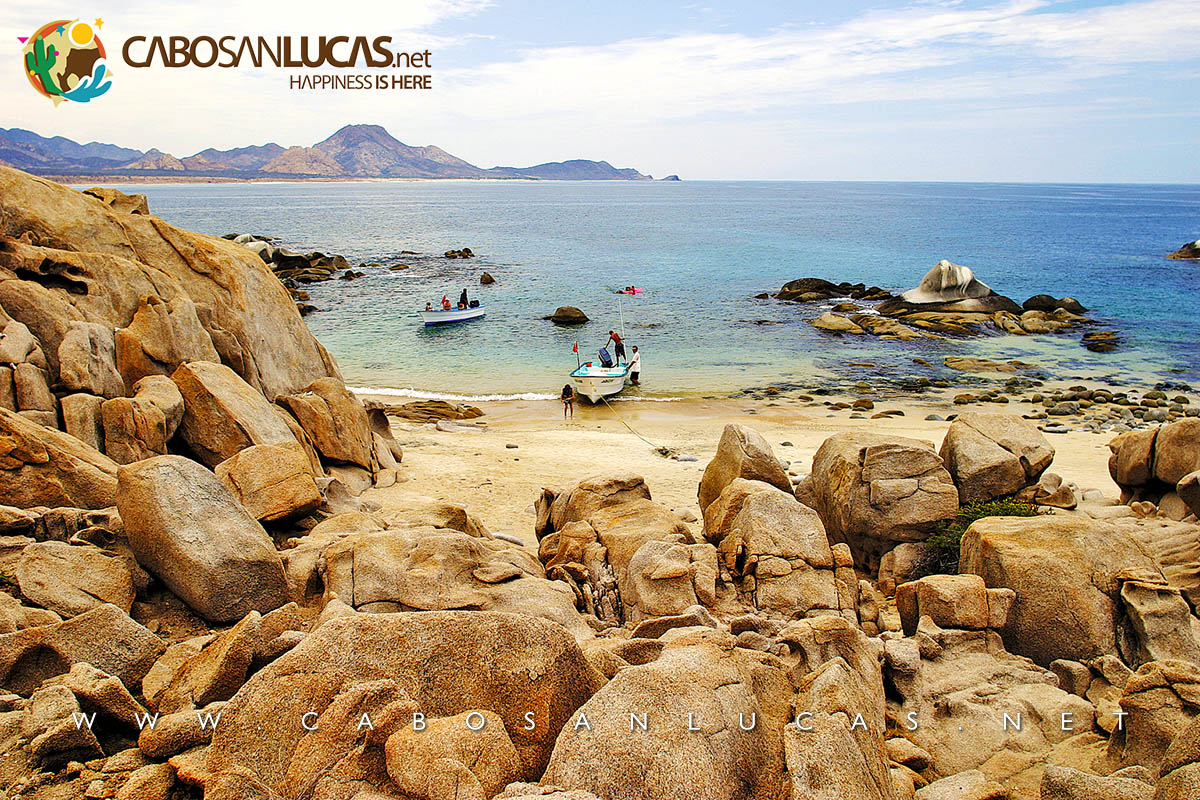 The roads are safe for driving, plus, if you get there by car you'll also have a better chance to explore the area around Cabo Pulmo. Do make sure you take a four-wheel-drive vehicle, especially when visiting this place during the rainy season, as the roads get slippery.
In the town of the area, also called Cabo Pulmo, there are small hotels, eco-tourism cabins, restaurants and numerous certified instructors and outfitters who can provide you with the right equipment and all the help you'll need to get the most out of the experience in this pristine area.
If you want to spend the night at the Cabo Pulmo National Park you can camp on a beach nearby, and for those who prefer a bit more comfortable facilities, there are also some cabins, some options are:
We emphasize the importance of respecting and preserving these beautiful places so that future generations will also enjoy and appreciate the treasure these natural parks offer in beauty, wilderness and harmony.
An interesting (a bit old) article on Cabo Pulmo (PDF)
Author: M. A. Gallardo