Los Cabos' International Airport is located out of town, almost 8 miles (15-minute drive) north from downtown San Jose del Cabo and 31 miles from downtown Cabo San Lucas (40-minute drive).
Data:
Coordinates: 23º09'06"N 109º43'15"W.
374 ft / 114 m above sea level.
Codes: IATA: SJD, ICAO: MMSD.
The airport was built in 1986.
6th busiest airport in Mexico.
The most important airport in Baja California Sur.
5,339,316 passengers in 2019 (65% of them from international destinations).

View Cabo San Lucas & Los Cabos in a larger map
The airport has 4 terminals:
Terminal 1 (Aeroméxico, Aeromexico Connect, Air Canada, Interjet, Magnicharters, Sun Country, United Airlines, US Airways, VivaAerobus, Volaris).
Terminal 2 for private and general aviation, some charters and cargo (Alaska Airlines, American Airlines, Virgin America, West Jet).
Terminal 3 (AirTran Airways, Delta Air Lines, Delta Connection, Frontier, Spirit Airlines, United Airlines).
Terminal 4 is still being built and has been connected to Terminal 3.
Aerial view of Terminal 1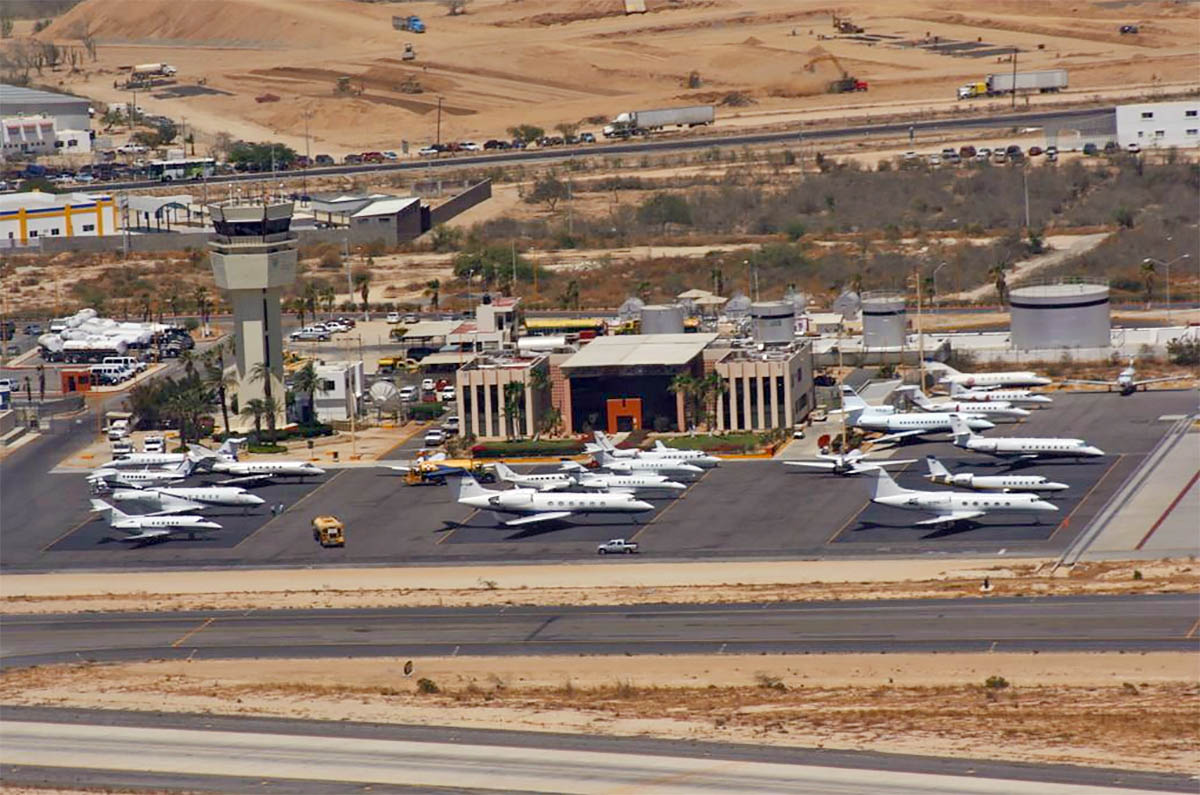 Aerial view of Terminal 2
Airport Terminal Layout
SJD Runway upon approach
Terminal 1 coming in from the Tarmac

San José del Cabo Airport Lobby
When you land at the SJD Airport with an international flight you'll go into the building to the immigration desks, here you'll be handed part of the form you filled up on the plane, keep this receipt as you will need it to exit the country, don't lose it as you will get a fine.
Once you go through a few steps away you pick up your luggage at the baggage carrousels, you can take your baggage yourself or get a baggage porter that'll take it in a cart to the next stop which is customs. Here you'll press the famous button and get either a green or red light, green you walk on, red your baggage is checked.
Right after customs, you walk through some sliding doors into what is called the "Shark Tank" a bad idea of a welcome reception, a mob of timeshare sales representatives trying to sell you their wares dressed up in free tours, free transports, free money, they also try to fool you into believing they are your best friend, Mexican officials or the driver of your shuttle, the tricks never end!
Do not stop, just say no and keep on going, until you are out in the fresh air of the airport hall. Then you can find the transportation representatives of your hotel or get official transports. If you are with a porter he'll make this easier as he knows his way.
Los Cabos Terminal 3 Diagram
Los Cabos Terminal 2 Diagram
Taxis and shuttles from the airport are quite expensive (around 75 dollars into CSL), so a good tip is to check with your hotel or resort if they have airport transfers as this will be much cheaper, if not free. Car rentals can end up being cheaper too. Walking to the highway (Highway 1) is a little over a mile, where you could catch a bus, but the heat, luggage, and so on, don't make it a viable option.
The Airport currently offers a Subway, Domino's Pizza, Starbucks, Burger King, a restaurant, a few bars and a few stores. Needless to say, if you want a great deal, better buy things before arriving at the airport.
Flights to Los Cabos arrive from many different destinations, from USA and Canada they arrive from airports like Los Angeles, Phoenix, Houston, San Francisco, Dallas, Salt Lake City, Detroit, Chicago, San Diego, Atlanta and Seattle. From within Mexico, most passengers arrive from Mexico City, Guadalajara, Toluca, Tijuana, Monterrey and Culiacán. See more details on Wikipedia.
Aereo Calafia & Aeroservicio Guerrero travel to various locations in Mexico, including flights to Mazatlan, Puerto Vallarta and Culiacan, they depart from Cabo San Lucas Airport.
Airlines that arrive at Los Cabos Airport:
For car rentals, these are the companies and their toll-free phones:
| | |
| --- | --- |
| Avis | 1-800-331-1212 |
| Budget | 1-800-527-0700 |
| Dollar | 1-800-800-4000 |
| Hertz | 1-800-654-3131 |
| National | 1-800-227-3876 |
| Payless | 1-800-PAYLESS |