Golf this great can only be found in Cabo San Lucas and the Los Cabos area in general.  In the span of only two decades, Cabo has become one of North America's hottest golf destinations… and it's no wonder.
The Tom Weiskopf designed eighteen-hole Desert Course at Cabo del Sol, marked the sixth championship golf course to open in the area.
Golf in the region began with very humble beginnings, opening a nine-hole golf course in San Jose del Cabo once owned and operated by FONATUR, then Mayan and now is called Punta Sur.
In the last decade alone, golf has grown to become the number two attraction. Now in the 21st Century, Los Cabos has an equivalent of 10 Championship golf courses, 180 holes.
The municipality of Los Cabos, an area comprising of about roughly half of the Baja California Sur peninsula below the capital city of La Paz, includes Cabo San Lucas, San Jose del Cabo, The Tourist Corridor and Todos Santos.
In 1990, it was Don Koll, a dedicated golfer and successful California developer who commissioned Hall of Fame great, Jack Nicklaus, to design twenty-seven holes of golf at the Palmilla (now One&Only Palmilla) resort. The impact on Cabo San Lucas and the Los Cabos area has been phenomenal.
Koll envisioned this area as a world-class resort vacation center, and today there are three Nicklaus designed golf courses in Los Cabos: twenty-seven holes at Palmilla, eighteen holes at the El Dorado, and eighteen holes at Cabo del Sol.
To round things out, there are the Robert Trent Jones Jr. designed Cabo Real, Dye Corporation designed The CSL Country Club and the Tom Weiskopf designed an eighteen-hole Desert Course at Cabo del Sol along the Tourist Corridor.
Los Cabos has been the site of the PGA Senior Slam Tournament since 1995, attracting golf greats such as Raymond Floyd, Dave Stockman and Hale Irwin.
Though considered by some as intimidating, the signature championship golf courses are pricey to play but worth every penny. Low handicappers will find them challenging and will appreciate the genius and skill that went into their designs, while less experienced players will be rewarded with a good day's combat.
The magnificent terrain is comparable to that found in Arizonan and Californian desert golf courses.  What sets Los Cabos apart is the presence of the Sea of Cortez, a sparkling water-wonderland of incredible hues reaching as far south as the eye can see. Golfers here in Cabo have an added bonus… eleven months without any rain.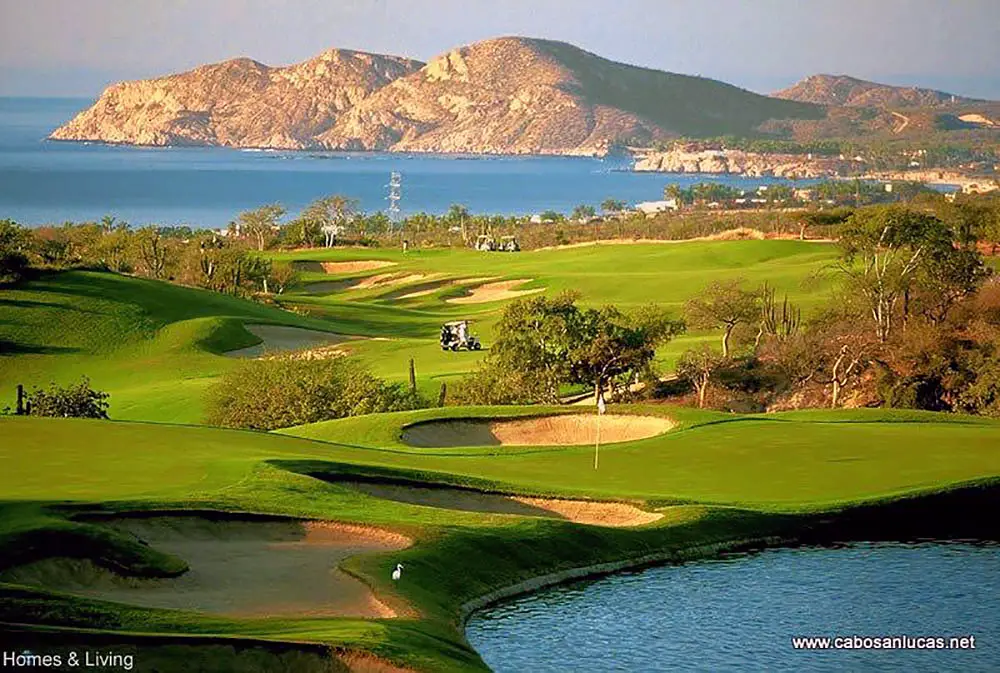 Los Cabos is the ultimate golf travel destination.
The collection of golf courses are some of the top in the world such as Cabo Real, El Dorado, Cabo del Sol Ocean Course and Palmilla, designed by Jack Nicklaus, Cabo Real designed by Robert Trent Jones, Jr., the Cabo del Sol Desert Course designed by Tom Weiskopf, and the Cabo San Lucas Country Club designed by Pete Dye.
There are also the Greg Norman 9 holes with the other 9 holes designed by Jack Nicklaus, a signature course located in San Jose del Cabo at the Puerto Los Cabos Marina and multi-million dollar community.
And there are more golf courses in development, including Diamante, a Tiger Woods designed course, this way Los Cabos will always continue to be the best Golf Destination in Mexico.
Author: M. A. Gallardo