This webcam offers an excellent view of the beach at hotel Casa Dorada on Medano Beach and a panoramic view of the San Lucas Bay with Land's End & in the background, also on the right side you can see the entrance and part of Cabo San Lucas's Marina.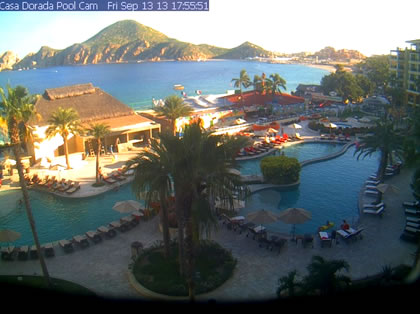 For both romantic and family vacations in Cabo, this resort is an excellent option, you can stay by the pool all day and choose from various restaurants, either informal on the beach, by the pool and inside. A private beach club offers various water activities and you can also enjoy a treatment at the Saltwater Spa.
Two pools.
Four restaurants y bars.
Private Medano Beach Club.
Kid's program.
Saltwater Spa.
Elegant event options.
Pet lodging.