Web Cam reloads automatically.
Another very well located webcam at Villa La Estancia that offers a panoramic view of Medano Beach extending toward the East of the San Lucas Bay toward the Golden Corridor that extends between CSL and San José del Cabo.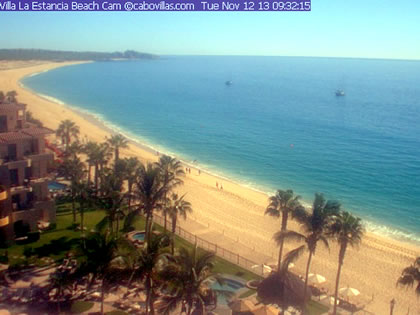 Villa La Estancia is a privately owned luxury villa, condo or penthouse is located on the "swimmable" Medano Beach, the most popular beach in Cabo San Lucas. You are just next door to Villa del Palmar & Villa del Arco Resorts, all very close to downtown Cabo San Lucas.
At Villa La Estancia Cabo, genuine paradise unfolds beyond the luxuries of your secluded Villa down to where the desert meets the sea. Cabo is famous for its unparalleled views and lavish rental properties. There is no better place to soak up its ambiance and enjoy recreational activities than Villa La Estancia.