Los Cabos, a destination that today has become a favorite with tourists, both Cabo San Lucas and San Jose del Cabo have excellent beaches covering 80 km of the last stretch of the Sea of Cortez and are one of the main and most beautiful attractions of this Baja California tourist destination.
The incomparable beauty of its beaches, both secluded and with traits that make them all unique, beaches of the Cabo area are excellent day trip locations where you can practice all kinds of watersports or just relax and enjoy the sun and a peaceful day.
The area from San Jose to Cabo San Lucas, most of them in the so-called Corridor, offers twenty varied main beaches to explore. The most famous are:
Whether you swim, hang out at the beach, practice some sport or activity that gets your adrenaline pumping, Cabo San Lucas has it all.

View Cabo San Lucas & Los Cabos beaches in a larger map
---
Playa del Amor (Lover's Beach)
Located on the tip of the Baja California Sur peninsula is the most representative natural attraction of Los Cabos & specifically of Cabo San Lucas, recently declared a World Heritage Site by UNESCO. It's a rock formation in the shape of an arch that has naturally formed out of the edge of the cape by wave erosion during many thousand years.
Close to this beautiful beach, located specifically in Cabo San Lucas, each four years something quite interesting happens, a new beach called "De Los Enamorados" is formed due to special tide and wave conditions under the Arch and then it disappears into the sea again.
There are some boat cruises you can take which depart from the Cabo Marina or Medano Beach to visit and photograph the area, let you off on the beach, take you to the Arch and the cape itself. It's a very popular and beautiful day trip. Read more on Lover's Beach.
---
Playa El Médano (El Medano Beach)
Medano Beach is the most famous beach in Cabo San Lucas. It is located about 1.5 miles from the main drag and in the bay, you can reach it easily by walking from the Marina. From here you can see Land's End, the end of the Baja Peninsula and is a great backdrop for the beautiful sunsets into the Pacific Ocean.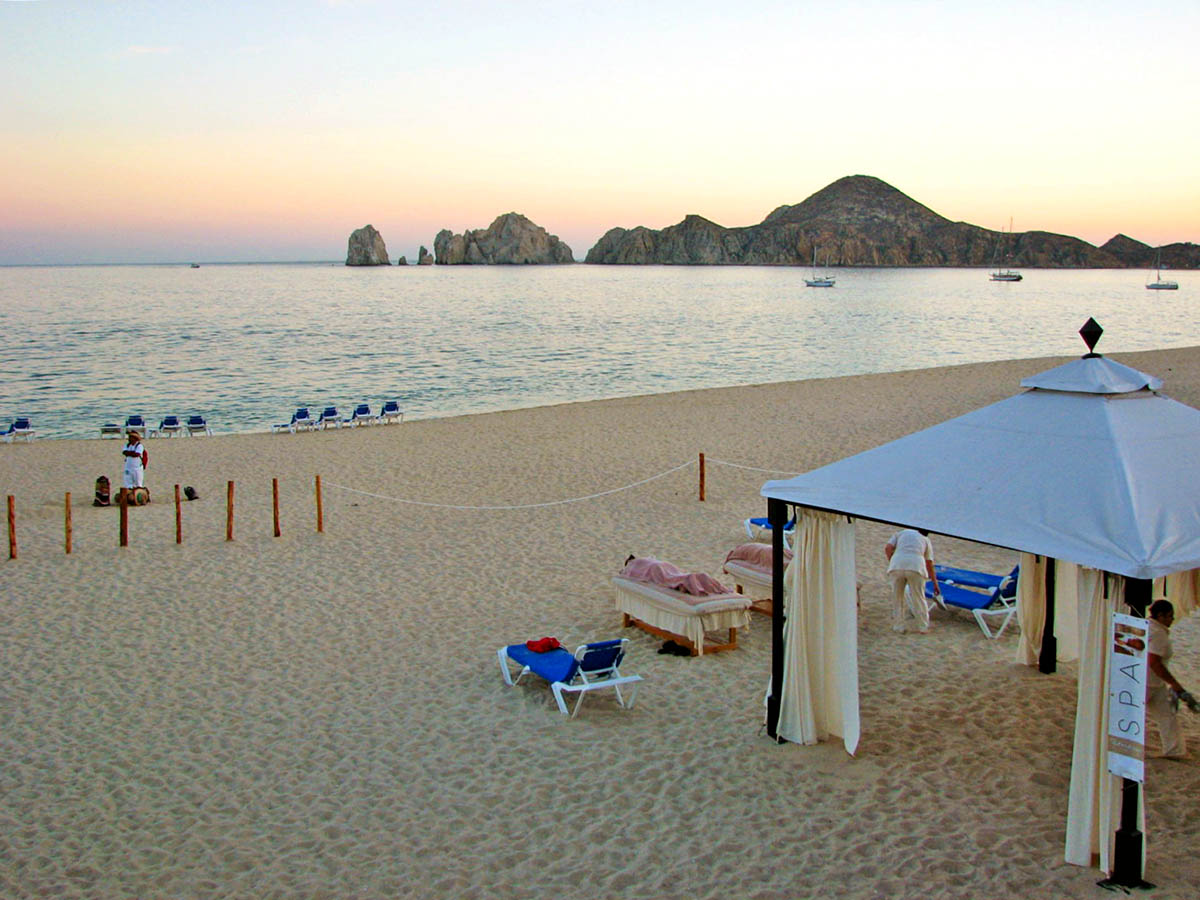 Enjoy fine white sands, gentle waves and blue waters.
This beach looks like a very big swimming pool, two or three times a week you'll see cruise ships arrive. In this area, you'll find a variety of water service providers, including boat cruises that will take you to the Arch or to Lover's Beach.
You can also rent and ride jet-ski, enjoy a parasail ride around the bay, diving, and as if this were not enough you can take a helicopter ride.
The area offers many bars and beachside restaurants where you can enjoy a meal, a drink, and even a party, many sponsor contests, events and more, you are sure not to get bored on this beach, Medano has it all for a great day at the beach.
---
Playa Palmilla (Palmilla Beach)
Playa Palmilla beach in Cabos is one of the busiest and most popular beaches in the area, it's located on Km 27.5 of Highway #1 going toward San Jose del Cabo.
Palmilla has beautiful white sands and clear waters, ideal for a family trip to the beach with recreational areas. At Palmilla, you can practice a number of sports, including scuba diving, snorkeling and fishing in its waters which offer quite a few different marine species.
Palmilla was the location of the first resort in the area, the one that made the whole place famous, read more on this part of Cabo's history in About Cabo San Lucas.
---
Playa Bahía El Chileno (El Chileno Beach)
El Chileno Bay beach (The Chilean Bay Beach) located on km 14.5 of the Tourist Corridor between San José del Cabo and Cabo San Lucas is a popular beach because of the calm waters and great comfort and relaxation offered by the shadow of the numerous palm trees that grow there. Access to the beach is very well indicated. The parking space here is quite wide and the best part is that it's a public beach.
You should not pay anything to enjoy all the benefits of these areas. On this beach, you'll find clear and calm waters, ideal for swimming and snorkeling. The beach offers showers for your convenience. You'll also find stores there that can rent equipment and boat rides for short trips and tours.
---
Cascadas de Arena (Sand Waterfalls Beach)
Cascadas de Arena (Sand Falls or Sand Waterfalls), originally described and discovered by Jacques-Yves Cousteau in the 1960s and part of the television series The Underwater World of Jacques Cousteau. It's only for advanced divers.
It all starts off some 30 yards from the shore, where steep sandbanks plunge off the edge into a deep underwater canyon. The sand falls start off at around 90 feet and fall all the way down to 400 feet deep, some even say it's twelve hundred feet deep.
The dive is mostly at 90 to 130 feet of depth, home to over 300 species of underwater species, you'll enjoy schools of Mexican Goatfish, snappers, sardines, barracudas, rays, angelfish and other tropical fish everywhere, with octopus, sea slugs, seahorses, and frogfish hiding behind rocks and sponges. The vertical walls of the canyon are covered with Gorgonians and sea fans. It is also an excellent place for night dives.
---
Bahía Santa María (Saint Mary Bay)
An impressive small horseshoe-shaped cove flanked by rock outcroppings. The turquoise waters and white pebbly sand on the edge look like something you could only imagine. Needless to say, if you are a beach person, a trip to this beach is a must while in the Cabo area.
Saint Mary Bay is a very popular beach and bay for snorkeling, swimming and scuba diving, many families arrive here to enjoy a day at the beach but do watch out for occasional swells.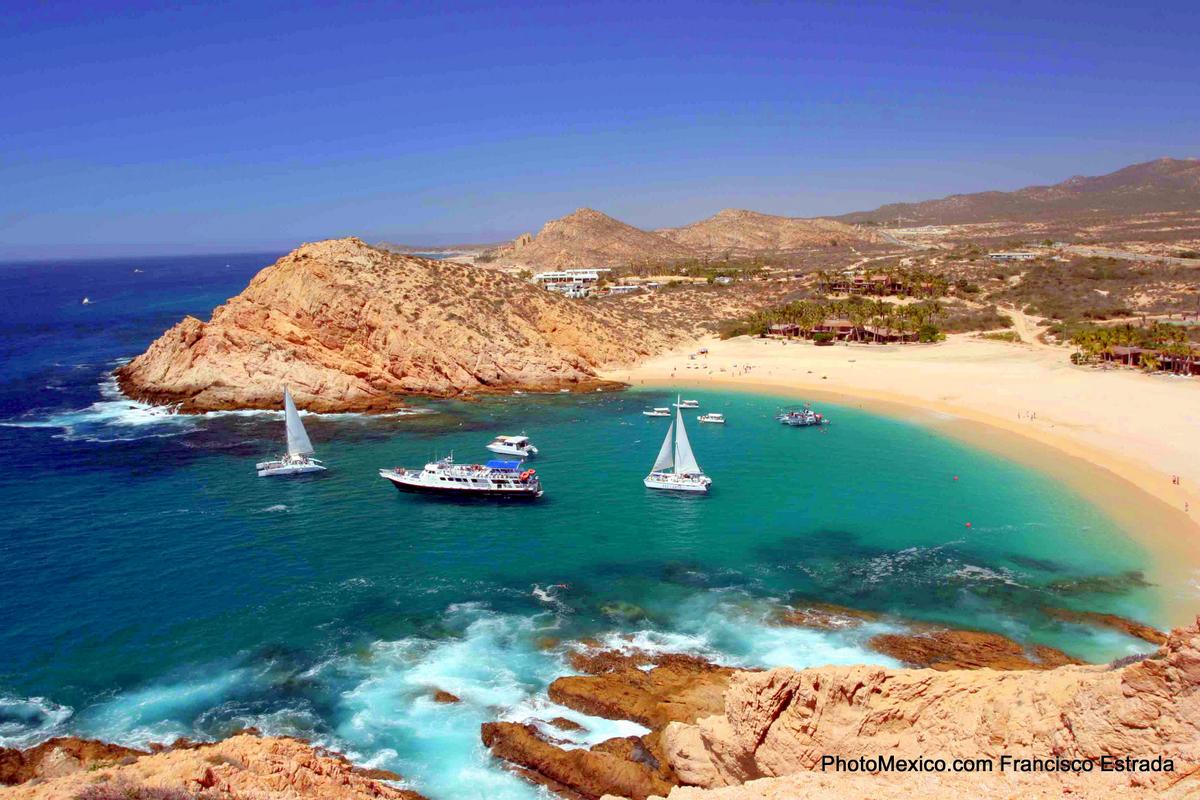 The bay is a protected marine sanctuary which accounts for the great snorkeling and underwater opportunities. The rock walls are lined with sea fans (Gorgonacea, an order of the Cnidaria that includes medusas and corals), plus you'll enjoy the many colorful tropical reef fish.
There are many tours offering snorkel trips to the bay from Cabo San Lucas and surroundings.
There are no facilities here so if you are planning to stay on the beach, take your own beach umbrella with, food and drink. Sometimes during high season, there are vendors there, but why risk it.
Santa Maria is between the 12 km & 13 km markers on the highway to San Jose del Cabo. If you take the bus, ask the driver to let you off at "Bahía Santa Maria." (almost on the 13 km marker; the dirt road to the beach is just after the bus stop.) You'll walk about ½ mile to the beach. Taxi from CSL is about US$20 dollars.
---
Playa Acapulquito (Acapulquito Beach)
Acapulquito beach is located on Km 28 of the main road in San Jose del Cabo, this is a fine sand beach with clear and transparent waters, waves of the area are quite strong so it is recommended to exercise caution if you enjoy a swim in the sea. Acapulquito is undoubtedly an ideal beach for adventure sports such as surfing.
---
Playa Costa Azul (Blue Coast Beach)
Costa Azul Beach (Blue Coast Beach) is considered the best beach in Los Cabos for surfing, it's located about 2 miles south of the hotel zone in San Jose del Cabo. Most surfers visit this beach during the summer where the waves are incredibly high, this beach also offers all kinds of services and facilities that will make your day at this beach a pleasant and comfortable experience.