WebCam reloads automatically.
An impressive and colorful webcam view over Villa del Palmar in Cabo San Lucas, you can see the pool, palm trees and the gardens, Medano beach and as background the rocky Land's End, San Lucas Bay and from time to time one of the many cruises ships that arrive here.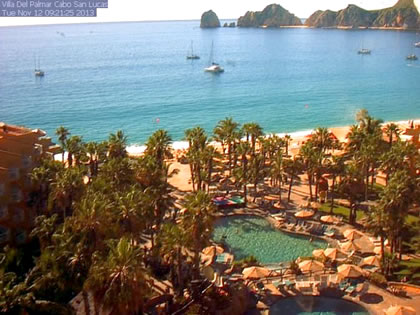 The hotel is located in one of the most active areas (Medano Beach) in CSL and 5 minutes from downtown Cabo and its Marina. Here you get the best of it all, well located, privacy and access to many relaxing and fun activities.
If having fun in family is for you, you'll enjoy the big pools, the waterfalls, a saltwater aquarium and a top-notch spa.