It's been a constant trend, also in Cabo San Lucas, the Corridor and San José, to offer all the services a visitor may need within the hotel or resort premises.
When you think about it, from the hotel manager perspective it is common business sense to increase the earnings you obtain from each visitor, add to this another factor with new tourists, you can take advantage of their lack of confidence when arriving in a new country, especially one like Mexico, where they don't know the language or the customs, they will feel less threatened to do it all at the same place.
This is when all-inclusive jumps into the equation, give the client all they need in one place and at one price.
Check out the list of All-Inclusives in the area
Hotels and resorts in Los Cabos have embraced this tendency too, make more money from the same client, a type of upselling. Want to sleep, here's the all-inclusive hotel, want to eat, we have various restaurants here in the all-inclusive hotel, want fun, tours, and activities, the hotel will take care of it, and all for one price.
The typical all-inclusive will offer food, drinks, snacks, watersports, kids' programs, night-time entertainment and more all for a specified price, sometimes under $100 dollars a night or maybe even less during low season.
Of course, there are pros and cons to going all-inclusive.
All-Inclusive, the cons:
First and foremost, an all-inclusive limits the mobility and adventurousness of the visitor, they feel they need to return to the resort or hotel for each and every meal or drink, or maybe, in extreme cases, the visitor doesn't even wish to step out and get to know Los Cabos. In some resorts of the Caribbean, this was exactly the idea, don't leave the fenced area, mostly because the surroundings aren't nice at all, or crime and insecurity are too high. That, of course, is not the case when you come and stay in a hotel within the Cabo area, but people may anyway decide to stay put, missing out on a great opportunity to expand their view of the world, enjoy the colorful Mexican culture and creating memories for a lifetime.
Second, hotels aren't known for having the best food or activities, no matter how much effort they invest in it, gourmet food and top-notch tours and activities are something you specialize in, you add experience, you optimize and you constantly improve your offer. The best restaurants in any tourist destination and even any regular city, are not normally found at hotels. The same goes for tour operators, the best are always specialized companies that have decades of experience and know-how that they use to offer the best service to the visitor.
All-Inclusive, the pros:
If you are on a strict or limited budget an all-inclusive help you ensure you won't run out of money or have to limit your activities and expenses if you spend a bit too much. You feel much more relaxed knowing you have it all covered and that the all-inclusive will feed and pamper you till the end of your vacation.
An AI package can help you save money, you may end up paying less for food if you stay in the hotel than if you daily went out and ate in the restaurants you find in the cities.
Especially for families, an all-inclusive resort or hotel is very practical and comfortable, kids normally aren't very adventurous when it comes to food, so taking them out to eat at the gourmet restaurants is not an option. The ease of just having easy access to food and drinks for the kids makes a vacation by the beach in Cabo, all the more relaxed.
I personally believe that the best way, if you really are on a tight budget, is to take the middle road, "not too bald and not either with two wigs" as my grandmother used to say. You buy an AI hotel package, but you still go out to town and eat a few dinners and a few lunches in the restaurants or cafés you find are the best offers in terms of quality and price (this you can do beforehand with a short research session online). You enjoy the activities at the hotel or resort, but you take a tour with the best tours and activities provider in town, and you also take the time to wander around and explore the attractions and sights in CSL, the Tourist Corridor and San José del Cabo, at the very least.
If you plan on taking the middle road, you should also choose a hotel that's close to town, restaurants and night-time activities, not some fenced resort far from it all and with few transport options.
Here we recommend a few all-inclusive hotels and resorts. For reservations go to our hotel reservations.
List of some all-inclusive Resorts
Riu Palace
Next to the Riu Santa Fe. Riu Palace Cabo San Lucas is everything you might imagine paradise to be, stretching down the gorgeous coast of the Sea of Cortez. It's a 20-minute walk to Medano Beach or $10 cab ride or 70 cents (8 pesos) bus ride to downtown CSL. Riu Palace's all-inclusive concept offers you first-class service along with the privileges of unlimited fine dining at six themed restaurants, unlimited leisure activities, and nightly entertainment, includes room service, in-room bars. Nightlife on site: discotheque and entertainment. Full access to Riu Santa Fe facilities, restaurants, pools, bars, air-conditioned gym. 
RIU Santa Fe
Hotel Riu Santa Fe (all-inclusive 24hr) is built next to the Hotel Riu Palace Cabo San Lucas and has direct access to a large, beautiful beach. Hotel Riu Santa Fe is ideal for practicing any kind of water sport or simply for enjoying the luxury and good service the hotel offers its guests.  It's one of the most affordable all-inclusive in Cabo. It's a very large resort with a single ocean-front building and six buildings behind the Palace. Good dining options, many bars, restaurants, disco, spa, but no room service.
All-Inclusive Hotels on Medano Beach:
Villa del Palmar
Located on the beach, a mere 5-10 minutes walking distance to downtown CSL, this hotel offers the perfect blend of location, intimacy, relaxation and recreational activities. It's a five-star resort that is perfect for family vacations, includes large swimming pools, interesting waterfalls, a saltwater aquarium, and a top-notch spa with a 10,000 square foot state-of-the-art facility. There is also a full-service fitness center, with the newest machines for a cardiovascular workout, plus a full range of "Paramount" equipment, and a wide assortment of free weights that serve to provide the ideal environment for health-oriented travelers.
Villa del Arco
A sophisticated five star, family-friendly all-suite hotel with all-inclusive options, spa service, and a fun full-scale Pirate Ship in the main pool. Located right in the middle of El Medano Beach, and only one mile away from the action in downtown CSL. Includes 220 spacious a/c suites, equipped with kitchens or kitchenettes and private balconies facing either the ocean or the resort's gardens.
Pueblo Bonito Rosé
Pueblo Bonito Rosé Resort & Spa is a deluxe all-inclusive resort located on one of the most pristine beaches in Baja California. Rose-tinted walls, domes, marble busts, and a large statue of Neptune establish a Greco-Roman theme for this upscale resort. Pueblo Bonito Rosé Resort & Spa offers full-service amenities including kitchenettes in all suites. A European-inspired spa, gourmet restaurants, private beach seating with food & beverage service.
Playa Grande Resort
Playa Grande Resort, an all-inclusive located on Baja California's most exclusive and private Solmar Beach, running along the Pacific Coast side of Land's End in Cabo San Lucas, Mexico. A charming Mexican hacienda-style resort that sits on 8 acres of beach, a few steps from the ocean and a few minutes walk from downtown Cabo. Enjoy beautiful ocean views, privacy & friendly service while you enjoy your stay at Playa Grande Resort, they offer many activities, fine restaurants, sport-fishing, and nightlife activities.
Solmar Suites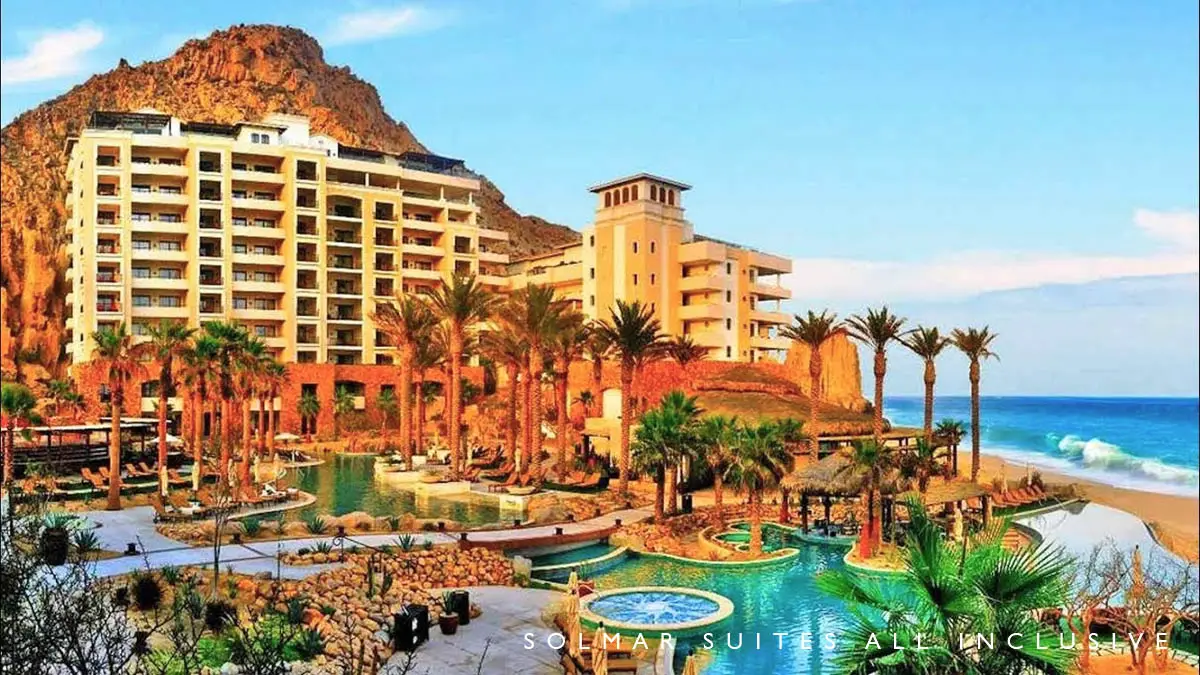 An intimate all-inclusive resort located on the spectacular Solmar Beach where the Pacific Ocean meets the Sea of Cortez. The resort offers beautiful gardens that blend with the natural splendor of the surroundings. Dramatic granite cliffs surround you and help to create a feeling of seclusion, but you are only a few minutes from downtown CSL and its entertainment.
Multiple swimming pools with swim-up bars, oceanfront Jacuzzi, a tennis court, fitness center, and spa massage services. Nightly mariachi entertainment with a festive atmosphere and a world-class restaurant and lounge that offers gourmet delights. Additional dining is conveniently located within walking distance from the resort.
Marina Fiesta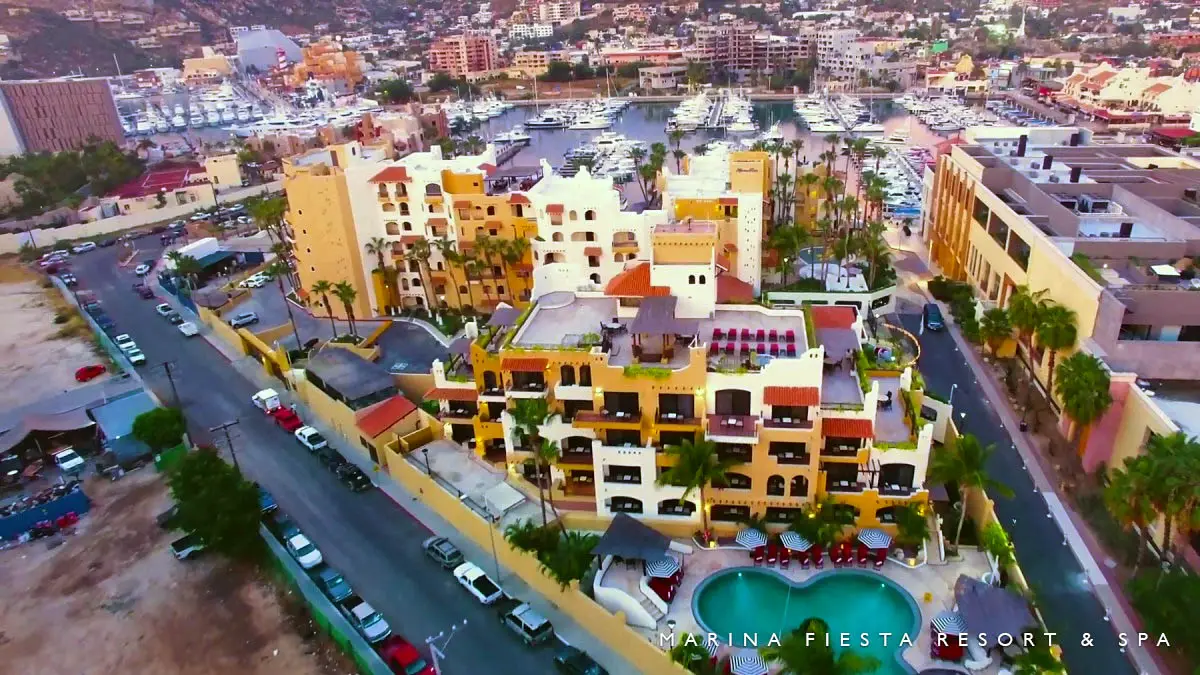 One of the best locations of any of the CSL all-inclusive hotels. Marina Fiesta Resort & Spa is right in the middle of it all on the Marina right in the heart of the Golden Zone. A short stroll away from the golden sands of Medano Beach, in downtown Cabo, a Dolphinarium, where you can swim with dolphins, and a shop filled Puerto Paraíso Mall right next door. There are also movies, bowling, and a Casino at less than 5 minutes walking distance.

View Los Cabos Hotels & Resorts in a larger map
For reservations go to hotel resort reservations