The two main tourist areas in Los Cabos are the towns of Cabo San Lucas and San Jose del Cabo.
The towns are 33 kilometers apart, or approximately 20 miles and the resort area between them is called the Tourist Corridor, The Golden Corridor or just The Corridor.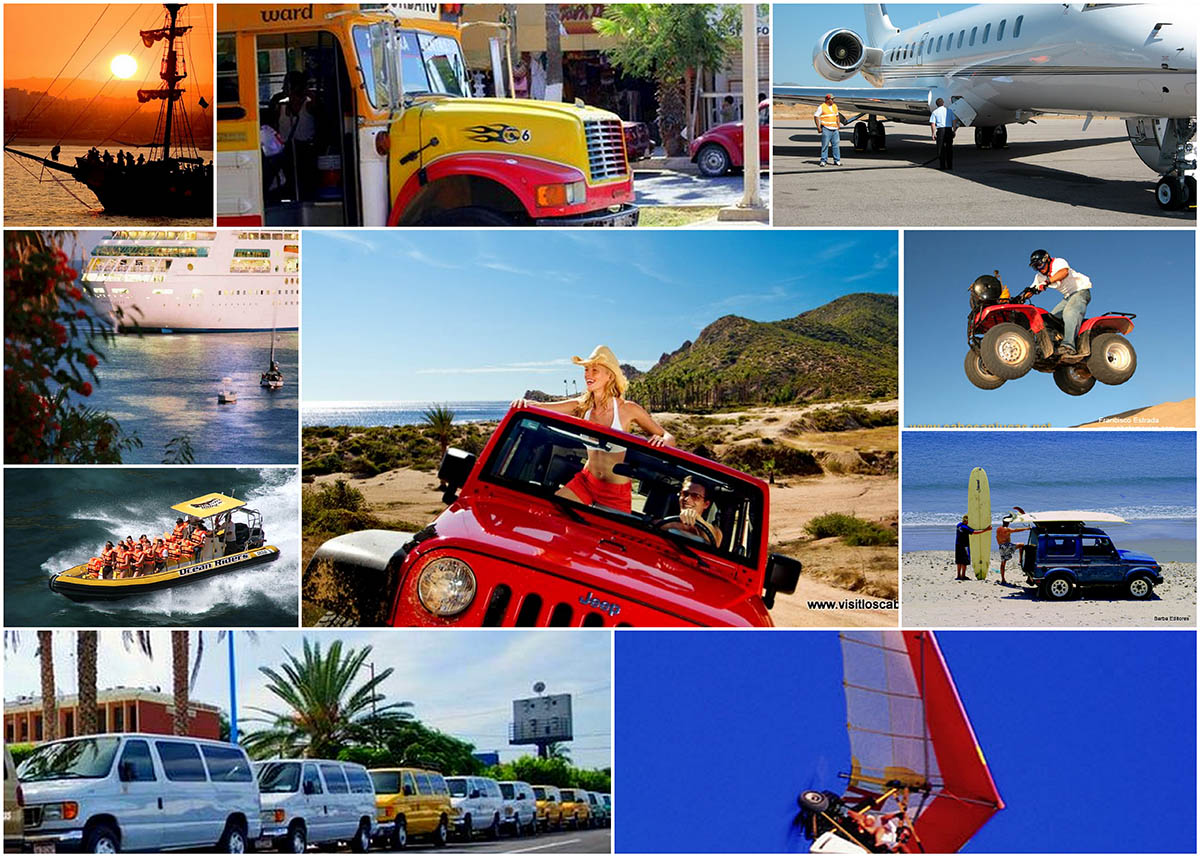 There is only one main highway in the area, Highway 1 (Carretera Transpeninsular #1), which traverses the entire length of the Baja Peninsula, ending (or starting off) in CSL.
Car rentals
Renting a car in Los Cabos is generally more expensive than back home, but maybe actually less than taking taxis depending on where you are staying. If you are in the middle of the Tourist Corridor, taxis may be as high as $30US one way to either town. Car agencies are at your hotel, the airport, and in both downtown areas.
The requirement to rent a car:
Valid driver's license.
Credit card.
Be at least 25 years old.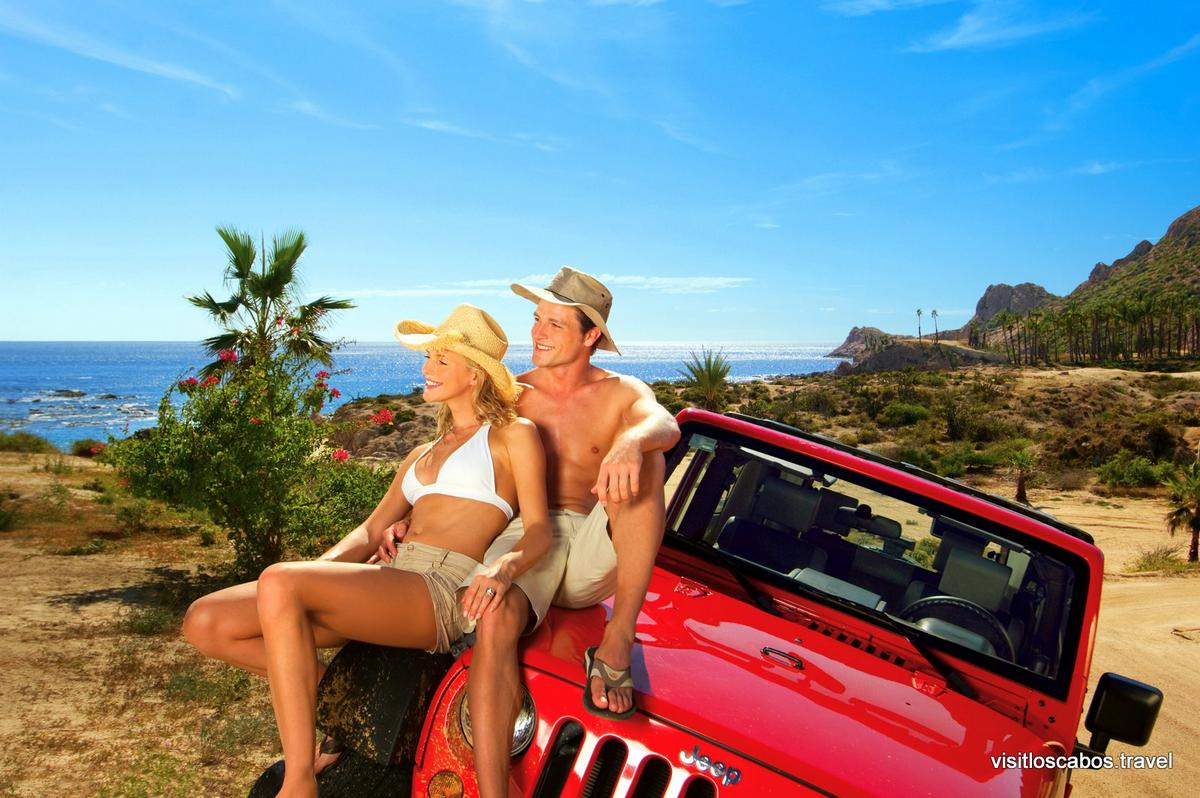 Driving tips
With only one major highway, local drivers can sometimes be a bit aggressive, especially to rental cars. This doesn't mean you shouldn't drive, you just need to learn the lay of the land.
Many rental vehicles drive in the left lane, going slower than the traffic in the right lane. On federal highways in Mexico, the left lane is used only for passing. Stay in the slow lane until you know your way around.
Although English is widely spoken, Mexico is a Spanish speaking country, with road signs in Spanish so be sure to acquaint yourself with them before driving.
In the state of Baja California Sur, it's obligatory to wear a seatbelt and stay within the speed limit. Speed limits are in kilometers, not miles. A mile is 1.61 kilometers. When driving on the highway the speed limit is 90 kilometers or 55 miles per hour. City speed limits are 30 to 50 kilometers, roughly 20 to 30 miles per hour.
Highway enforcement is less rigorous than in the US and Canada, another reason to drive responsibly and defensively. In town, where many police direct traffic by hand, speeds are enforced.
Be careful not to enter one-way streets the wrong way. Both Cabo San Lucas and San José del Cabo's downtown areas are predominantly one way. Check the traffic flow before you make that turn.
Making your way around can be confusing. Ask your Concierge or rental car agent for maps, the more the better. Or if you have a cellphone you can use the GPS function, maybe even rent the car with a GPS, that's a good idea.
Gassing up
When gassing up, pay particular attention. There are mostly PEMEX owned gas stations available, the national government-owned franchise. There are locations in Cabo San Lucas, in the Corridor, and in San Jose del Cabo, all easily identified by their distinctive green signs.
Most stations in Los Cabos are clean and modern with restrooms and convenience stores. Credit cards are now accepted. Gas is pumped by attendants, most of who speak little or no English.
All gas prices are fixed and should not vary from station to station. Tipping is discretionary. If you are paying in US cash, the exchange rate will be lower. I normally tip some 10 or 15 pesos when they go out of their way to help you with your car, clean the windshield or check coolant, oil levels and so on.
Buses
The buses are a very convenient way to get from Cabo San Lucas to San Jose del Cabo and the beaches and resorts in the Tourist Corridor. The bus line that services the Los Cabos area – Subur Cabos runs every 15 minutes from around 5:30 AM to around 10:00 PM between Cabo San Lucas and Santa Anita (north of the International Airport), with bus stops along the Tourist Corridor.
Fares are about $2.50 dollars each way from town to town; drivers will change small bills. To get to Tourist Corridor beaches, tell the driver your beach destination when you board.
Most stop anywhere you request them to stop, which is convenient for you, but not for the cars behind and trips become longer with more stops along the way. Some buses are Express and stop only in designated bus stops, make sure when you get on. Passengers do wait to get on the bus at bus stops at specific locations.
Intercity and Interstate Buses
There are buses that travel longer distances, to La Paz, Loreto and further up the Baja peninsula. The main bus company in Baja California Sur is called "Aguila" and have scheduled buses to Ciudad Constitución, Guerrero Negro, Loreto, Santa Rosalía, San Ignacio, Todos Santos, Mulegé, La Paz, among others. Another bus line is "Península Ejecutivo" with trips to Ensenada, La Paz, Tijuana, and Mexicali. Another bus company is Autobuses de la Baja California.
You can find the bus schedules here: http://horariodebuses.com/EN/bc/

View Cabo San Lucas, San Jose del Cabo – Los Cabos in a larger map
Flights & the Airport
The Los Cabos International Airport is seven miles north of San Jose del Cabo and 45 minutes from Cabo San Lucas. There are a private jet terminal and two commercial terminals with a new one being added. Both terminals offer shops, money exchanges, magazines, gift shops, fast food restaurants, and various bars in the sales area and in the airport passenger terminal. Read more in our airport section.
Phones available at the airport are Telmex public telephones and use LADATEL cards which you'll be able to buy at convenience stores and at the airport itself in the stores, they are available in 30-50 and 100 peso value.
International passengers are requested to check-in at least 2 hours in advance, both terminals aren't very big, so distances to gates and services is short and can be done on foot.
If you are not getting picked up by a friend or have a previous arrangement with your hotel, the yellow and white mini shuttles are the best option to get to your hotel, resort or other lodging option. They fill up before departing, so expect a short wait until you start off. The fare ranges from 8 to 20 dollars depending on just how far you need to travel to get to your destination.
There's a small airport in Cabo San Lucas, read more about it.
Taxis
Most taxis in Cabo San Lucas and the area are large vans that can hold more than 10 passengers. Prices vary but are around 7 dollars a mile and fares between Cabo and San Jose will be around 35 to 40 dollars. Prices cover up to 4 passengers with a surcharge per passenger over this amount. Taxis are easy to find all over town.
Airport Taxi rates
Rates to the International Airport by private taxi will vary depending on your departure point and can be as high as $75 US one way. Check with your Concierge for the rate from your hotel. Shuttle services run from hotels but your fare must be purchased in advance, generally before arriving in Los Cabos. It's a good idea to arrange your round trip airport transportation when you book your airline ticket.