The Los Cabos International Airport serves most flights coming to Cabo San Lucas, San José del Cabo and the Los Cabos area in general, that includes these cities, the so-called Corridor and surrounding areas.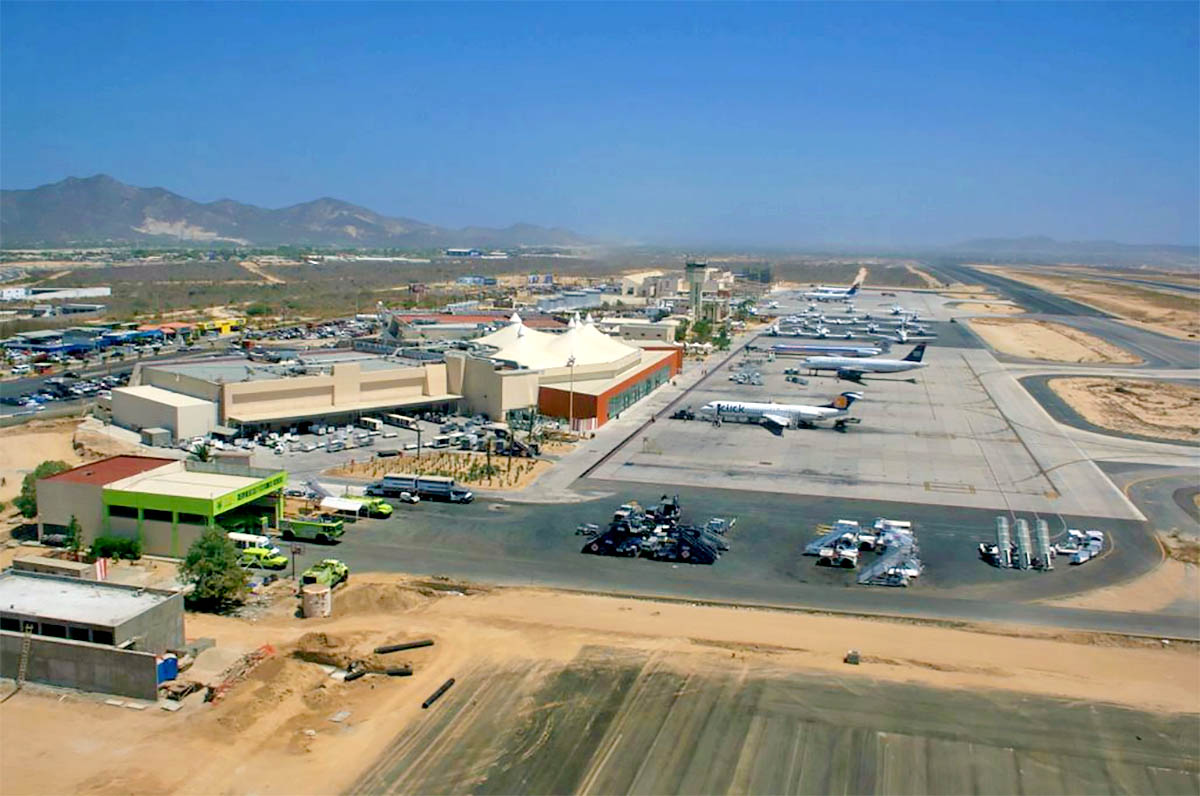 The airport itself is located out of town, around 8 miles (15 minute drive) north from downtown San Jose del Cabo and 31 miles from downtown Cabo San Lucas (40 minute drive).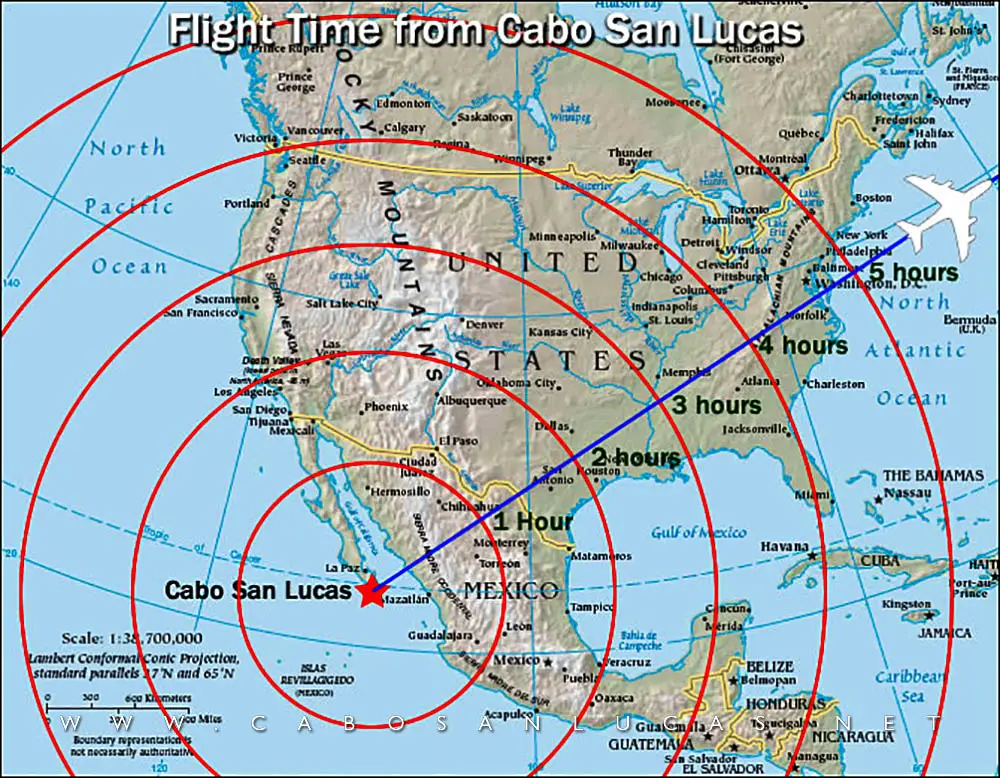 Some flights arrive at the smaller Cabo San Lucas Airport, which is an international airfield (officially called an aerodrome) that is located 4.5 miles (7.2 km) NW of Cabo San Lucas that receives mostly national flights.
Flights that arrive in Los Cabos (SJD) (update, March. 2014)
Airline Destination Aéreo Calafia Loreto, Los Mochis, Mazatlán Aeroméxico / Aeromexico Connect Mexico City
Seasonal: New York City (JFK). Starts 18/Jan/2014 Aeropacífico Culiacán, Los Mochis Air Canada
Seasonal flights: Calgary, Toronto, Vancouver
AirTran Airways (operated by SouthWest Airlines)
Santa Ana, CA; Denver, CO; Austin TX
Alaska Airlines Los Angeles; San Diego; San Francisco; San Jose, CA; Seattle/Tacoma American Airlines Dallas/Fort Worth, Los Angeles
Seasonal: Chicago-O'Hare CanJet Seasonal: Calgary, Kelowna, Toronto-Pearson, Vancouver Delta Air Lines Atlanta, Detroit, New York (JFK, starting Dec. 20, 2014) Salt Lake City, San Diego (starting Dec. 20, 2014)
Seasonal: Minneapolis/St. Paul Delta Connection (operated by SkyWest Airlines) Salt Lake City Enerjet Vancouver Frontier Airlines Denver
Seasonal: Kansas City Interjet Guadalajara, Mexico City, Toluca Magnicharters Mexico City, Mazatlan & Monterrey SouthWest Austin, TX
Denver, CO
Houston, TX (Oct. 2015)
Santa Ana, CA Spirit Airlines Dallas/Fort Worth TX, San Diego CA, Portland OR Sun Country Airlines Seasonal: Minneapolis/St. Paul Sunwing Airlines Seasonal: Calgary, Edmonton, Montreal, Ottawa, Saskatoon, Toronto, Vancouver, Winnipeg United Airlines Denver, Houston, Los Angeles, Newark
Seasonal: Austin, Chicago, San Francisco United Express (operated by ExpressJet Airlines) Houston US Airways Charlotte, Phoenix Virgin America San Francisco VivaAerobus Culiacan, Guadalajara, Monterrey
Seasonal: Mexico City Volaris Guadalajara, Mexico City, Tijuana, Toluca WestJet Calgary, Vancouver
Seasonal: Edmonton, Kelowna, Winnipeg
Calafia Airlines (site) that travels to various locations in Mexico, including flights to Mazatlan, Puerto Vallarta and Culiacan, departs from Cabo San Lucas Airport (site).

View Cabo San Lucas, San Jose del Cabo – Los Cabos in a larger map