If you are searching for the main International Airport in the Cabo area then you should check our article on Los Cabos International Airport (SJD).
Cabo San Lucas International Airport (officially an aerodrome) is located 4.5 miles (7.2 km) northwest of Cabo San Lucas.
CSL Airport Data
Coordinates: 22°56'51"N & 109°56'13.49"W
Official name in Spanish: Aeródromo Internacional de Cabo San Lucas)
Code: IATA: CSL; ICAO: MMSL
690 ft / 210 m above sea level.
7000 x 150 ft runway.

View Cabo San Lucas Airport on a larger map
Services at the Airport
International Flight Services.
Nighttime operation.
Only 10 minutes from downtown Cabo San Lucas.
7000 x 150 ft runway, Control Tower, IFR VOR/DME and NDB approach and Departure Jeppesen Plates.
Platforms North 600,000 sq. ft. South 310,000 sq. ft. PCN 52.
Passenger terminal and FBO Lobby and full security 24/7.
Soft Drinks & Snacks.
Complimentary Coffee, ice and lobby.
Taxis.
Free Computer with printer and Wi-Fi Internet.
Tower and Building (CSL):
Aerial view of Cabo San Lucas Airport (CSL) & the runway:
Call: (624) 124 5500
Email: [email protected]
Fax: (624) 124 5550
Airport Offices: (624) 124 5500, (624) 124 5674
Mobile: (624) 108 1100, (624) 122 4227
PTT: 62*358958*6.
Aereo Calafia (site) that travels to various locations in Mexico, including flights to Loreto, Culiacan, Guasave, Los Mochis, Ciudad Obregon, Guaymas, Mazatlan and Puerto Vallarta, departs from Cabo San Lucas Airport (site).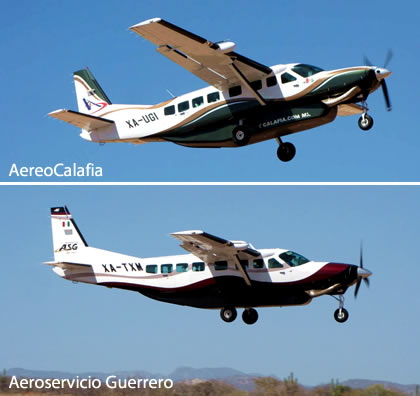 CSL Airport also serves flights from Aeroservicio Guerrero with regular flights from Cabo San Lucas to Los Mochis, Culiacan and Mazatlan (site).