Top 10 Nightlife Options in Cabo San Lucas
Get ready for the time of your life, or in this case, the nights of your life, as Cabo San Lucas is filled with fun and entertaining nightlife options every night.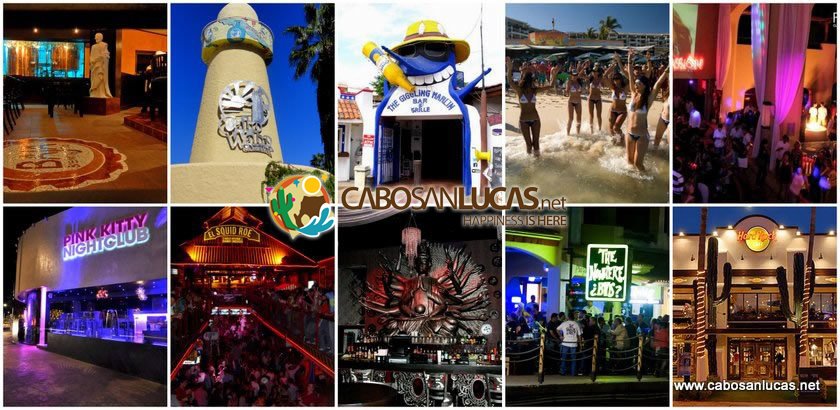 Downtown Cabo is just waiting for your visit, from the delicious restaurants, which range from Cuban, International, Mexican and much more, to the clubs and bars that fill the city with entertainment.
The list of our Top 10 Cabo Nightlife options (alphabetically):

View Top 10 Nightlife Options in Cabo San Lucas in a larger map
---
Baja Brewing Company
In CSL: Puerto Paraiso Mall, ground floor, Cabo San Lucas
In San José del Cabo: Morelos 1227, San José del Cabo
Phone: 624 146-9995
www.bajabrewingcompany.com
SJD: The original Baja Brewing Company restaurant is next to the brewery and located in downtown San Jose del Cabo in the historic art district. The art influence spilled into the restaurant where there are several artistic features such as an original statue of Saint Lucas, the patron saint of brewers. Half of the restaurant is an outside beer garden complete with a water wall and wood-fired pizza oven. The other half feels like your walking into a Mexican version of "Cheers", and yes, you will find some of the same friends there every night.
Mon. – Sun.: 12:00 noon till late.
Live music starting at 10 pm Thursday to Saturday.
CSL: Located on the ground floor of the Puerto Paraiso Mall right on the Cabo San Lucas Marina. You can't miss us, especially with the large donkey statue. There's a large outdoor patio where you can watch the Marina action and an airconditioned indoor area with TV's and every game possible, they offer original beers and
recipes, the place has a similar feel to the original brewery in San José.
Mon. – Sun.: 8AM – 1AM for Breakfast Lunch and Dinner.
Live Music: Tuesday, Thursday, Friday & Saturday.

View Top 10 Nightlife Options in Cabo San Lucas in a larger map
---
Cabo Wabo
Vicente Guerrero (between Madero and Lázaro Cárdenas), Cabo San Lucas
Phone: (624) 143-1188
www.cabowabocantina.com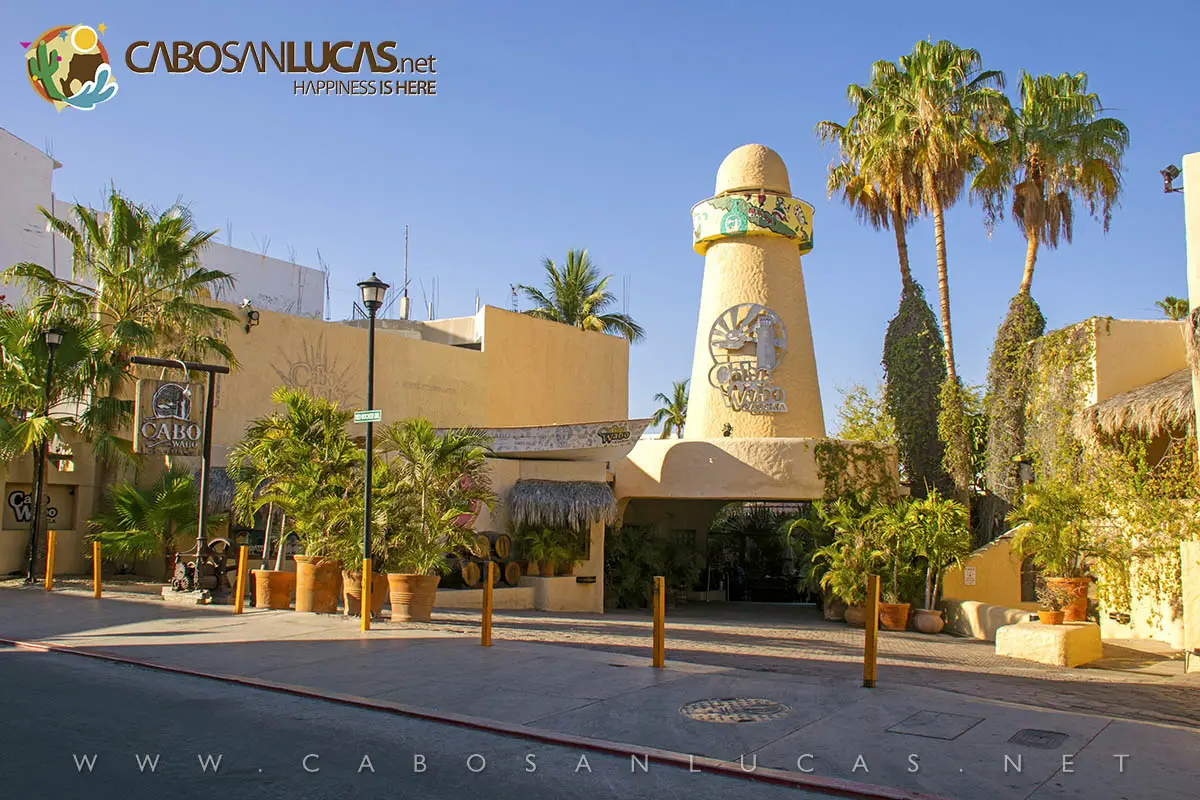 Cabo Wabo is the now-famous cantina opened by Sammy Hagar in 1990, you should not miss it while in Los Cabos. Featured on MTV, VH1, E-Channel, Travel Channel, is the obvious party spot in CSL. The rocker of solo and Van Halen fame is sometimes to be seen there, he even plays live on stage at times, mainly on his birthday, with his current band Chickenfoot.
The place is both a restaurant and a nightclub-bar that caters to a wide age group. There's a dance floor, music and live music with the best local bands share the stage at the Cantina with top celebrities and musicians from all over the world.
This is one of the (if not the best) places in town to enjoy live music with a different band each week. There is always a live-dance club action. Cabo Wabo has since also become a famous Tequila brand, and as you could expect, in Cabo Wabo it doesn't stop flowing. For night action it's best to arrive at 9 PM, and things take off around 10 PM. The restaurant serves excellent food for lunch and dinner every day of the week. The place also has space on the rooftop, or within the cantina itself.

View Top 10 Nightlife Options in Cabo San Lucas in a larger map
---
El Squid Roe
Blvd. Marina Cabo San Lucas
Phone: (624) 143-0655
www.elsquidroe.com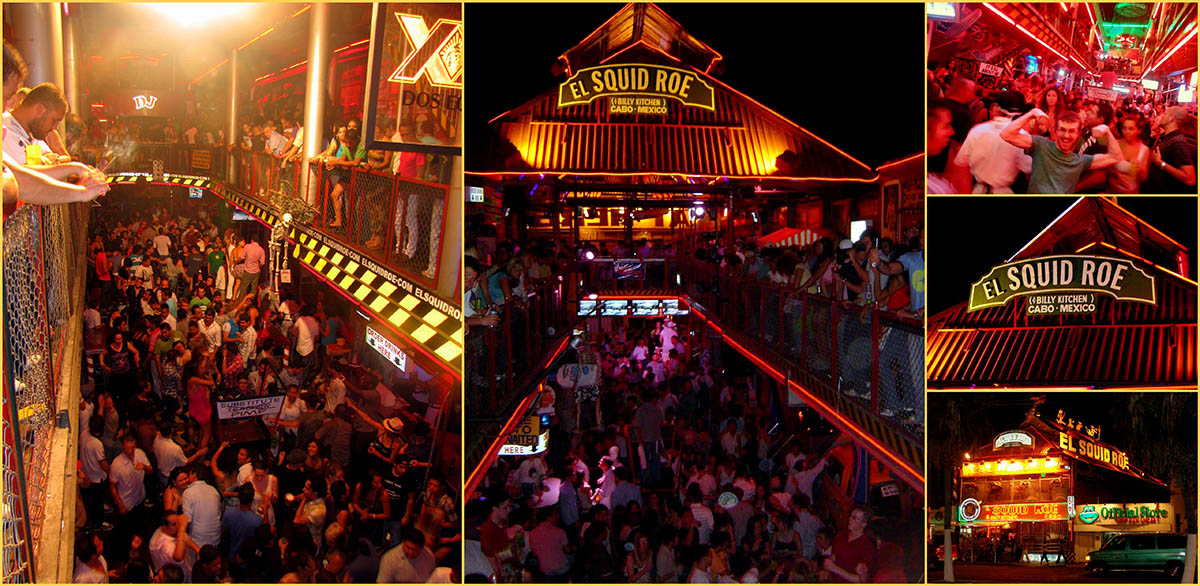 El Squid Roe is a very popular bar-nightclub in downtown Cabo San Lucas, an Andersons Group bar that is in charge of some of the best bars-nightclubs all over Mexico. You'll have a great time, drinking, dancing and just having fun here. There are no dress codes, barely any rules at all here, anyone is welcome and the fun is guaranteed.
The Billy Kitchen is in charge of feeding you and making sure you don't blackout instantly when the waiters come around "sharing" drinks. Just as the Cabo Wabo, El Squid Roe is one of the most popular nightclubs in town and should not be missed on your trip here to Cabo. There are three floors for dancing, on the roof, there's an open balcony so you can enjoy the view and the sky.

View Top 10 Nightlife Options in Cabo San Lucas in a larger map
---
Hard Rock Cafe Cabo San Lucas
Blvd. Marina L-17 L-28 C, Plaza Bonita, Cabo San Lucas
Phone: (624) 1433-779
www.hardrock.com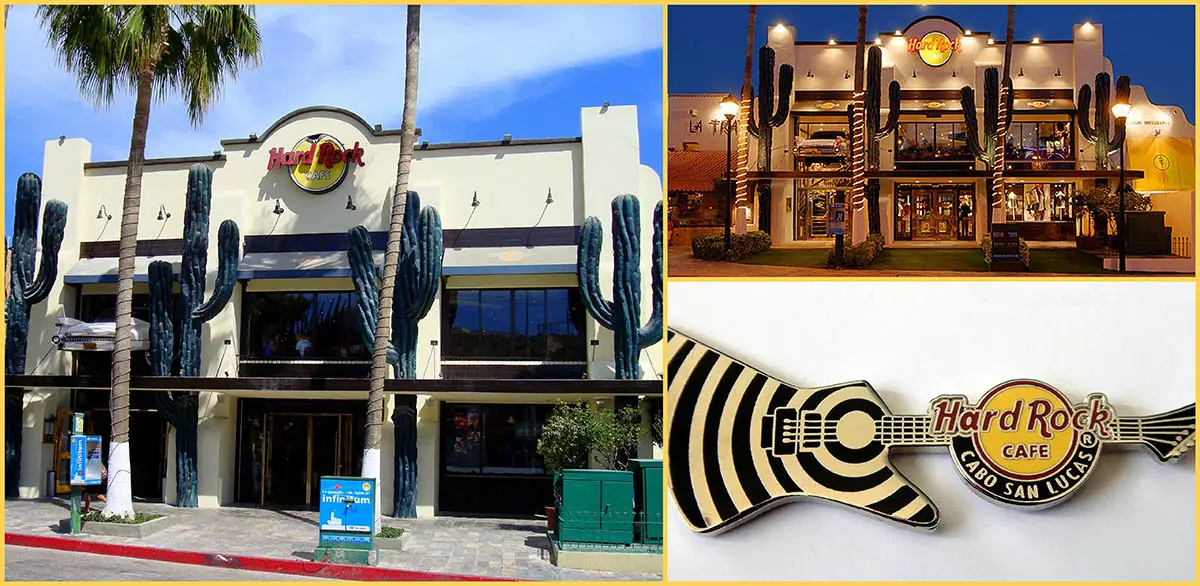 The Hard Rock Café is located right there on the main street of town in Plaza Bonita a few steps from the Marina, there's no missing it, the typical design plus the large cacti show the place. Great food, great music as is to be expected in any HRC around the world but with Mexican influence in this case. You'll also find live music here, the walls are covered with rock music memorabilia. So the sum up: loud rock music, great food, and spectacular scenery, just what your doctor ordered!

View Top 10 Nightlife Options in Cabo San Lucas in a larger map
---
Mandala Food & Wine Club
Lázaro Cárdenas 1112 (between Morelos y Zaragoza), Cabo San Lucas
Phone: (624) 143-2054
https://www.facebook.com/MandalaCabo
Becoming the in-place to go at night in Cabo San Lucas. Las Vegas-style nightclub lit up dancefloor with videos, open-air atmosphere, bottle service and great service.
---
Mango Deck
Medano Beach, Cabo San Lucas
Phone: (624) 143-0901
www.mangodeckcabo.com
If your looking for the typical beach bar-spring break experience that just screams CABO VACATION, then Mango Deck's the place for you. Sit on the beach, drinking margaritas under an umbrella, a full-service bar overlooking it all. Many of the visitors to the bar come by sea, so the shoreline can end up a bit crowded with boats of all types. The fun never stops and don't forget to get your turn on the mechanical bull.
Passion Club
ME CABO Playa El Medano, s/n, Cabo San Lucas
Phone: (624) 145-7800
Passion Club & Lounge is an upscale contemporary dance nightclub, half restaurant, half lounge, is located in the incredible ME by Meliá Cabo Hotel at Medano Beach. You can enjoy impressive views of the Sea of Cortez and Land's End.
ME is also the location of one of the world-famous Nikki Beach locations. Though made infamous by MTV's Real World cast, Passion offers four areas, the Lounge, Club, VIP room and Premium Bar. Enjoy Mexican-fusion cuisine and translucent drinks all night long.
---
Pink Kitty Nightclub
Ignacio Zaragoza, Downtown Cabo San Lucas
Phone: (624) 143-5500
www.thepinkkittycabo.com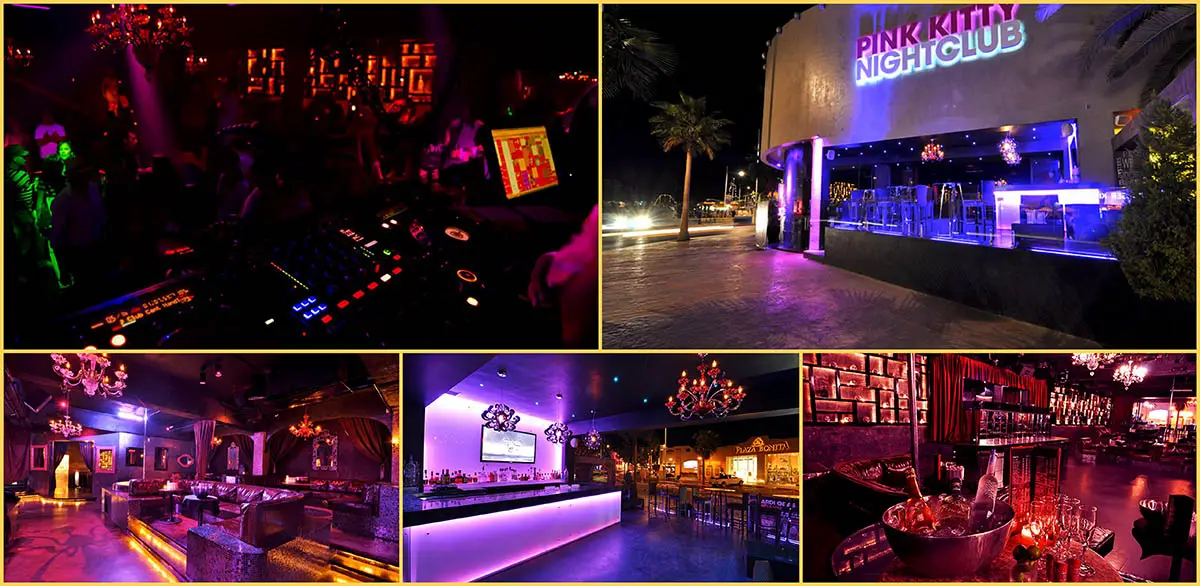 One of the newer nightclubs in Cabo San Lucas, a high-end nightlife option with a modern and at the same time classic design, offers one of the best dancefloors in the Cabo area. Exclusive VIP service that makes you feel more like in Las Vegas that in Los Cabos with international DJs coming down regularly to the Pink Kitty to spice up the party. Cutting edge light and sound systems complete the equation. The staff is all-female, a great selection of Tequilas. Located where the defunkt Zoo Bar & dance was strategically placed.
Open Monday to Sunday: 9:30PM – 4:00AM
---
The Giggling Marlin Bar & Grille
Matamoros & Blvd Marina, Cabo San Lucas
Phone: (624) 143-0606
www.gigglingmarlin.com
The Giggling Marlin is a very popular bar-club, well located in downtown Cabo San Lucas close to the Marina on the Marina Boulevard. One of the oldest bar clubs in the city. It offers a fun nightly dance show, you have to get your photo taken hanging like a marlin from the roof, have a shot of their signature drink called "Skip & Go Naked", drink some beers and enjoy their food. Notice their motto on the website too "If our food, drinks or service aren't up to your standards, please lower your standards", makes you wonder no?
Open Every day from 9:00AM-1:00AM
---
The Nowhere Bar
Plaza Bonita, Blvd. Marina #17 Local 12-A, Cabo San Lucas
Phone: (624) 143-4493
www.nowherebar.com
www.facebook.com/nowherebarcabo
As their motto says "because Nowhere is exactly where you want to be", this is where you have to visit when you are in town. Offers tons of weekly specials, excellent service (bajo la mirada del amo – supervised by the owners). Girls drink for free between 8 and 10 PM on Tuesdays or the happy hour specials, you'll find it great to take a seat here, but when the time comes to leave… it won't be that easy. They have an excellent location in Cabo San Lucas at the Marina waterfront.
Author: M. A. Gallardo