By Esteban R. Gonzalez
While there is still life to live, to hell with death!
Mexicans feel more alive than ever during the Days of the Dead, every 1st and 2nd of November, especially as years pass.
Mexicans make fun of "La Catrina" – Death – creating mischievous rhymes known as calaveras (skulls) and giving their friends and family candy skulls with their names written on their foreheads. They take their children to the plaza and along the streets to ask for their "calaverita" (candy and toys) and at the cemeteries they remember and celebrate our departed ones with Mariachis and Tequilas.
La Catrina (Day of the Dead)
The living are always in need, the dead have too much of everything: altars in their honour are put up in homes and cemeteries and decorated with purple and orange cut paper, candles and incense, sugar paste candies and flowers such as cempasuchil -marigolds, the flower of the dead-, terciopelo, nubes and carnations.
The deceased are offered food made by the living: tamales, mole and candied pumpkin, and beverages such as atole (a corn flour drink), pulque (fermented maguey juice) and spirits. Included in the offering, placed beside the deceased's photograph, are cigarettes, seasonal fruit, a water jug and a washbowl – so the souls can cleanse themselves -, as well as the traditional bread of the dead, delicious sugar-coated loaves of bread decorated with bones and tears made out of the same dough.
Pan de Muerto (Bread of the dead)
On the altars for the dead children -the little deceased- you'll also find wooden, cardboard, clay or plastic toys. Thus, the departed ones, who visit us on these days, will quench their thirst and satisfy their hunger and their spirit.
When the altar is removed at the end of the celebrations, the food will have lost its smell and taste: the souls that have been summoned will be nourished on the food's essence.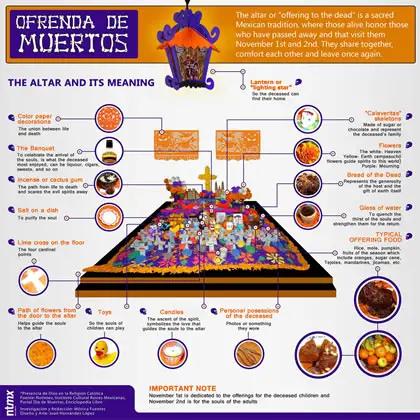 The meaning of the Day of the Dead Altar / Offering
(click image to enlarge)
Paths of marigold petals are laid out so the dead can find their way back home and candles are lit for every soul. During the Day of the Dead, the characteristic smell of marigold and the aroma of incense and copal fill the night atmosphere.
Day of the Dead altars
On the small islands on the Lake of Patzcuaro, such as Janitzio and Pacanda, and its lakeside villages, such as Tzintzuntzan and Santa Fe de la Laguna, in the state of Michoacan, and in Xochimilco and Mixquic, in Mexico City, where the graves are bedecked with flower petals, this tradition is celebrated with impressive solemnity, in an ambiance of mestization where the sacred and the profane are complemented by millenary pre-Hispanic rites.
Life gains meaning with death: after all, we were born to die. And more so on these days, during the well-attended wakes at the cemeteries where, with tequila or with mezcal, we share a toast with our departed ones, sharing with them at their last resting place. Then we remember that in a hundred years we will all be gone…
But in the meantime. as the popular Mexican saying goes:
"the dead to the well and the living to revel!"